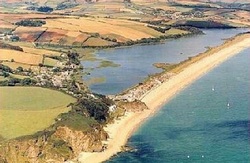 I Peter 5:8 "Be sober, be vigilant; because your adversary the devil, as a roaring lion, walketh about, seeking whom he may devour"
This week marks the 74thanniversary of what is commonly known as D-Day, the Allied invasion of mainland Europe at the beaches of Normandy during World War II.  It was a daring, but necessary step towards victory against entrenched German forces.  It was also a finely choreographed military operation that ultimately saw over 120,000 Allied troops cross the English Channel on that day, June 6th, 1944.
Such an operation required extensive planning and practice in utmost secrecy.  The Allies found a large area along the southern British coastline that closely matched the coast of Normandy, especially replicating the Utah Beach area, and had it carefully evacuated and sealed off from public view for the months leading up to the real invasion.  Here, at a place called Slapton Sands, the Allies performed practice invasions.
As a culmination of their practice, they designed an extensive week-long drill at the end of April 1944 that was named Exercise Tiger.  Unfortunately, during the early morning of April 28th, 1944, a group of German torpedo boats stumbled across the exercise and brutalized the surprised and defenseless force.  On that morning, 749 Americans lost their lives, ironically more American lives than were lost on Utah Beach on the actual D-Day.
It is relatively easy to counter an adversary that we are expecting.  Yet, we are at our weakest when we are surprised because we are often defenseless.  The deadly experience at Slapton Sands provides a stark reminder of the importance of constant vigilance and enduring sobriety.  Like a group of German torpedo boats, our adversary is looking to sink our ships, destroy our lives, and devour us.
PLEASE PRAY THAT OUR LIVES WOULD BE CHARACTERIZED BY VIGILANCE AND SOBRIETY.  May we never be surprised and defenseless.