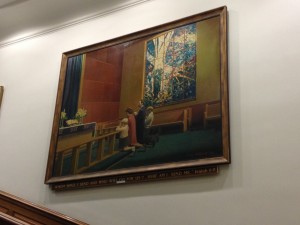 Isaiah 6:8 "Also I heard the voice of the Lord, saying, Whom shall I send and who will go for us? Then said I. Here am I; send me."
My favorite place in the Pentagon is at the foot of this source of massive motivation. I often spend time here praying for our nation and its leaders. Interestingly, this painting is located on the stairway between the 3rd and 4th levels of the E-ring between the 8th and 9th corridors. For those familiar with the Pentagon, this location is in the immediate vicinity of the world's most powerful military leaders, only a few paces from the Secretary of Defense's office. Thus, America's senior leaders regularly pass under this very painting.
I have no idea how long this painting has been there or who placed it there. Frankly, I am afraid to ask lest someone decide that it is too provocative to keep displayed. Yet, I pass by it almost daily as I go about my business in the area. As I look at the family kneeling in prayer and I read the inscription from Isaiah 6:8, I am challenged and compelled that I am to be an unqualified volunteer for Christ. Where – it doesn't matter. What – it doesn't matter. How – it doesn't matter. Why – it doesn't matter. When – it doesn't matter. None of it matters – as long as God is in it and as long as I am faithful to it.
PLEASE PRAY FOR CHRISTIANS IN THIS LAND TO BE UNQUALIFIED VOLUNTEERS FOR CHRIST. We must go! We must stand! We must pray! We must never hesitate to fully follow Him!
NOTE: For similar thoughts, please see: http://prayatlunch.us/send-me/