Colossians 2:6-7 "As ye have therefore received Christ Jesus the Lord, so walk ye in him:  Rooted and built up in him, and stablished in the faith, as ye have been taught, abounding therein with thanksgiving."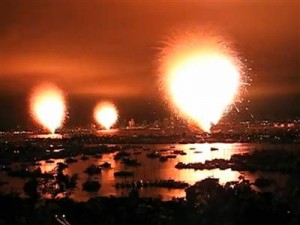 San Diego, California has one of the world's most spectacular 4th of July Fireworks Shows.  Fireworks are launched from four locations, entertaining a crowd of over a half a million expectant fans for nearly 20 minutes … usually.  On July 4th, 2012 things didn't go as expected.  Due to a computer malfunction, all the fireworks from all the locations went off simultaneously.  In less than 30 spectacular seconds, the show was over.  It didn't last as expected.
Our founders designed this nation to last.  They walked in Him.  They rooted this nation in Him and built it up in Him.  They stablished it in faith.  Even in our founding document, the Declaration of Independence, the fingerprints of our God and their faith are evident and abundant:
We are entitled to our rights by Nature and Nature's God – "to which the Laws of nature and Nature's God entitle [us]" – Romans 13:1
We are created and created equal – "We hold these truths to be self-evident, that all men are created equal"– Genesis 1:27
We all share the same source of liberty – we are "endowed by [our] Creator with certain unalienable Rights" – Galatians 5:1
Governments are to be designed to secure our God-given rights – "that to secure these rights, Governments are instituted among Men" – II Corinthians 3:17
God is the Supreme Judge – "appealing to the Supreme Judge of the world for the rectitude of our intentions" – II Samuel 2:10
God is powerful and trustworthy – "with a firm reliance on the protection of divine Providence" – I Peter 5:6-7
This nation has lasted because of its roots, though in recent decades we have been furiously digging them up.  PLEASE PRAY THAT AMERICA WOULD RETURN TO ITS ROOTS.  If we are to last as designed, then we must be rooted and built up in Him.
SET YOUR ALARM:  If you're alarmed (by a Supreme Court that continues to advance a liberal agenda and support federal overreach), set your alarm (to pray for our nation)!