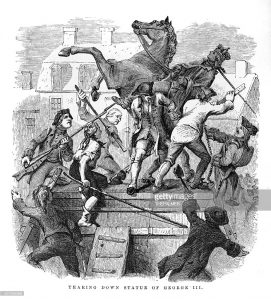 Isaiah 61:1 "The Spirit of the Lord God is upon me; because the Lord hath anointed me to preach good tidings unto the meek; he hath sent me to bind up the broken-hearted, to proclaim liberty to the captives, and the opening of the prison to them that are bound"
On July 9th, 1776, General George Washington ordered that the newly-signed Declaration of Independence be read to the American Continental Army.  On that evening on their parade grounds in New York City with the British Army closing in on them, 30,000 American soldiers heard those words proclaiming liberty and announcing separation from tyranny.
General Washington's rationale for doing so was clearly described in his General Order from that day:
"The General hopes this important Event will serve as a fresh incentive to every officer, and soldier, to act with Fidelity and Courage, as knowing that now the peace and safety of his Country depends (under God) solely on the success of our arms: And that he is now in the service of a State, possessed of sufficient power to reward his merit, and advance him to the highest Honors of a free Country."
Indeed, this proclamation had its intended impact.  Even on that same evening, a large statue of King George III was torn down in New York City and melted into bullets to add to the revolutionary arsenal.  Though it was several years before victory was ultimately achieved, the spark of freedom that was lit on that evening caused the sacred fires of liberty to burn within the hearts of every soldier warming their passions throughout the conflict.
PLEASE PRAY FOR THE SACRED FIRE OF LIBERTY TO BURN WITHIN YOU AS WE SERVE OUR NATION AND OUR SAVIOR. Like our forefathers, may we proclaim liberty to the captives in bondage around us while fighting our every battle with fidelity and courage.