II Timothy 2:19-21 "Nevertheless the foundation of God standeth sure, having this seal, The Lord knoweth them that are his. And, Let every one that nameth the name of Christ depart from iniquity. But in a great house there are not only vessels of gold and of silver, but also of wood and of earth; and some to honour, and some to dishonour. If a man therefore purge himself from these, he shall be a vessel unto honour, sanctified, and meet for the master's use, and prepared unto every good work."
As the calendar turned from 1776 to 1777 and fresh off their Christmastime victory at Trenton, the colonial army executed a brilliant surprise attack on the British garrison at Princeton. The colonists were nearly driven to retreat until General Washington surged to the front lines, dangerously close to the British position, and rallied the troops.
The following depiction of that moment was sculpted by Clark Mills and sits in Washington, DC today: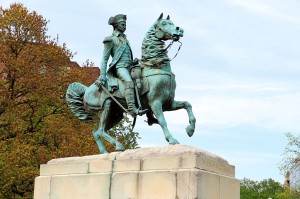 During the statue's dedication ceremony, Mr. Mills stated the following:
"The incident selected for representation of this statue was at the battle of Princeton where Washington, after several ineffectual attempts to rally his troops, advanced so near the enemy's lines that his horse refused to go further, but stood and trembled while the brave rider sat undaunted with reins in hand. But while his noble horse is represented thus terror stricken, the dauntless hero is calm and dignified, ever believing himself the instrument in the hand of Providence to work out the great problem of liberty."
Each of us can be an instrument in the hand of Providence. We have been placed here to work out the great problem of liberty that is rapidly slipping through our fingers. We must rally the troops by an undaunted advance towards the enemy's lines. PLEASE PRAY FOR THE COURAGE TO BE USED OF GOD IN AMERICA TODAY. Through God-inspired courage and personal revival, we can be meet for the Master's use.
Please see this prior post about the state of the colonial army at the end of 1776:
http://prayatlunch.us/engage-anew/
SET YOUR ALARM: If you're alarmed (that we have not properly bathed the 2016 election in prayer), set your alarm (to pray for our nation)!