Matthew 15:8 "This people draweth nigh unto me with their mouth, and honoureth me with their lips; but their heart is far from me."
There is no more ironic and sad juxtaposition on the American calendar than Thanksgiving Day and Black Friday.  Just hours after Americans finish their prayers of thankfulness and contentment, we wrestle with one another to get our hands on those things we think will bring us happiness as we seek to fill the voids in our lives.  Wiping away the tiredness of our post-dinner coma, we wake up early because we are concerned that we will miss out on the things that will finally satisfy us.  With the taste of turkey dinners still on our taste buds, we look to consume more and more. In one moment we are honoring God with our lips, and the next we are cursing those who cut us off in the parking lot.  In doing so, we reveal that our hearts are far from Him.  American Christians are guilty of the same.
A day of thanksgiving provides us the perfect springboard into the Christmas season as we prepare to celebrate and commemorate the perfect gift – the birth of our Savior. Unfortunately, we negate this opportunity when we rush out the door in the middle of the night, leaving our thankfulness and contentment behind, to find those things that we hope will satisfy us during this season.  All the while, it is thankfulness and contentment to the Lord that are the only things that will actually satisfy.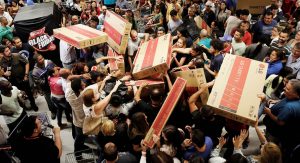 PLEASE PRAY FOR AMERICANS TO EMBRACE A SPIRIT OF THANKFULNESS AND CONTENTMENT THROUGHOUT THE CHRISTMAS SEASON.  May we draw nigh unto God with not just our mouths, but with our hearts also.
For a related thought from five years ago, please see:  http://prayatlunch.us/contentment/